It's time for your instruction to reach every student
So many really good teachers are struggling because they want to reach their students in meaningful ways, but are not getting the support they need to make it happen IRL.
Look no further! This E-book makes culturally responsive teaching accessible and gives you thought+actionable tips you can use today.
Grab your free E-book:
First Steps to Understanding & Implementing Culturally Responsive Teaching: From Identity to Instruction
by Dr. Melanie Desmuke-Battles
Scholars for the Soul: An Educational Solutions Firm, LLC
You won't find this wealth of knowledge anywhere else for FREE! Get it while it lasts.
We won't send spam. Unsubscribe at any time.
Teacher Identity
Who you are matters to how you show up.  We've included an activity to help you unpack your identity and challenge those blindspots.
Instructional Format & Tools
Without understanding the intersection of the brain and culture, it's impossible to create meaningful instruction that transfers outside of your four walls. Learn techniques on how to integrate information processing within your lessons.
Academic Mindset
Deficit-based thinking not only exists with educators, but it is the hurdle many dependent learners have trouble overcoming.  Learn how to partner with them in this work.
Doing the Soul Work
As busy as teachers are, reflecting and simply being are vital to retaining teachers. In addition to reflecting, substantial support must be provided to ensure transformation and sustainability. Learn ways you can connect and receive the support you need.
Quit waiting on someone else to save the day. We've got the tools!
This E-book contains concrete, foundational information that helps educators and instructional leaders to conceptualize the meaning and priority of culturally responsive teaching.
It is NOT to be conflated with critical race theory, thought it is critical and should always be used.
It is NOT just for black students and students of color...it's for everyone!
It is NOT just another fad, but it is the way many have been teaching and getting results for decades!
Keep in mind, it's a lifelong journey and with this E-book, you don't have to go it alone.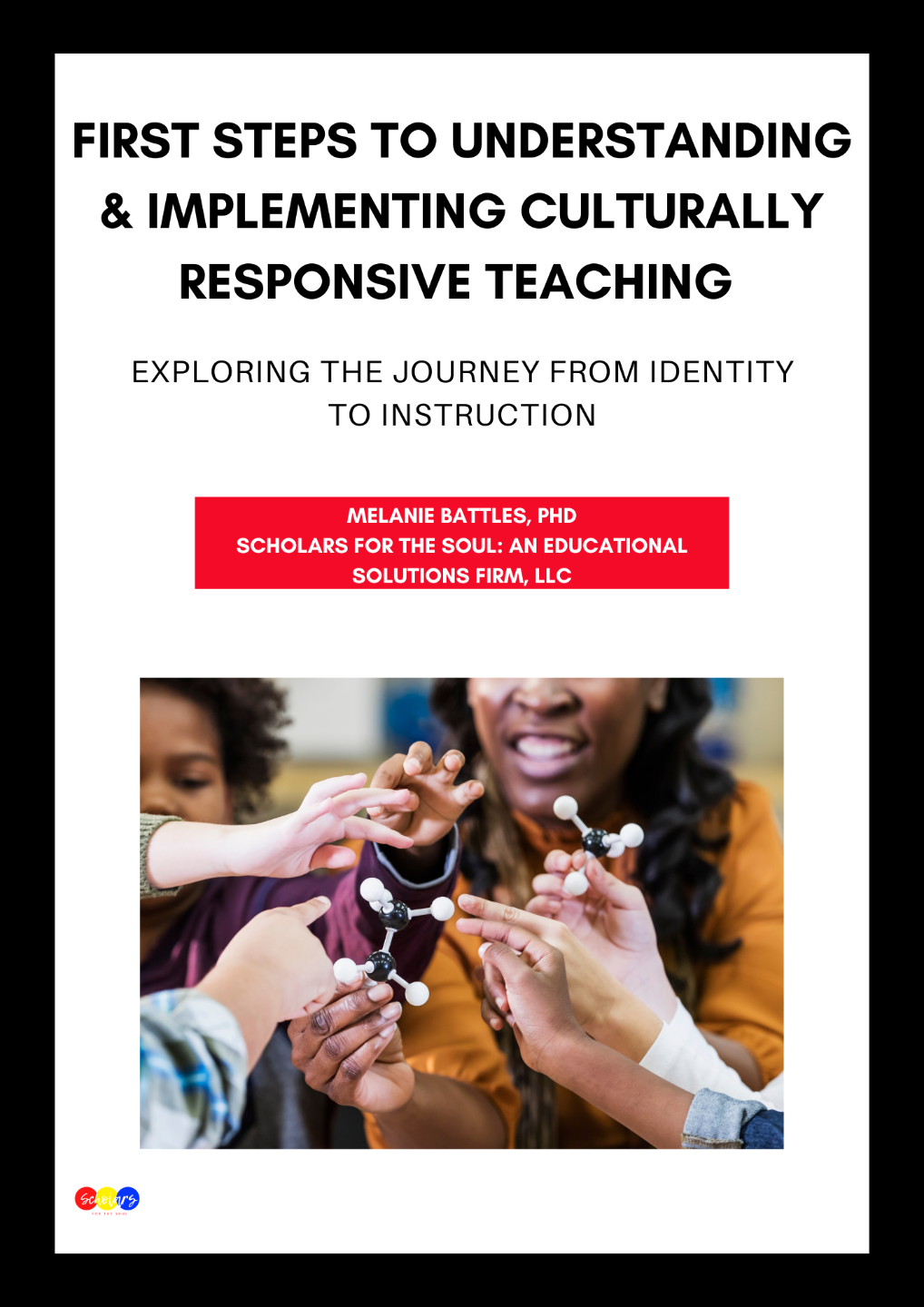 Want to know more about us? 
Scholars for the Soul: An Educational Solutions Firm is an educational consulting company that provides professional development in the area of curriculum, instruction, instructional leadership, social emotional learning, and adult mental wellness.  Led by Dr. Melanie Desmuke-Battles, we are positioned and ready to serve K-16 schools and organizations who serve our youth.  
Legal disclaimer: The information from this site and any site associated with Scholars for the Soul: An Educational Solutions Firm, LLC and Dr. Melanie Desmuke-Battles is the intellectual property of the aforementioned.  Any copying, distribution, or selling of this information is strictly prohibited.  Violating these terms will result in legal actions.  Please share our work and respect our work by leading folks back to this page, our website, and citing the work you find valuable. 
Visit website here.